Welcome to the 3rd edition of Conversations in Class!
Here on this site you can access the following resources to help you get more out of the book:
Interactive vocabulary learning activities to help you practice all the language in each unit
Audio tracks + full bilingual transcripts
Photocopiable worksheets for extra practice
★For the 3rd reprinting in March 2019, we made minor improvements in the conversation examples in the "How about you?" sections and corrected various errata. You will see where the corrections were made in the highlighted areas in this PDF. For your students, you can print out these extracted pages with corrections, if necessary.
You can also download the corresponding Teacher's book here.
Please note that because of logistic reasons, we cannot ensure that you receive the latest version of the textbook.
You can check the version of your textbook on the last page as follows: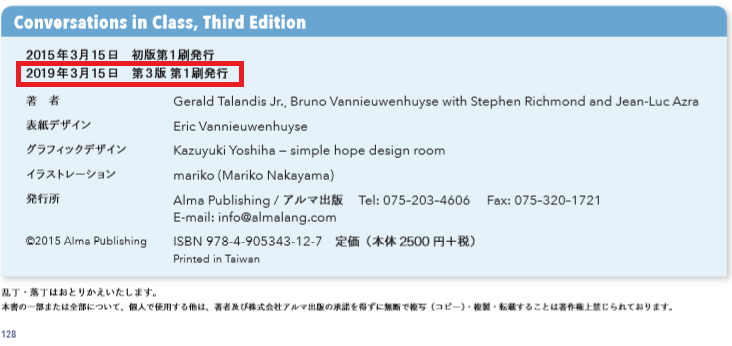 ---
DOWNLOADS
Click here to download the teacher's book, audio tracks, transcripts, and worksheets.
ACCESS NOW